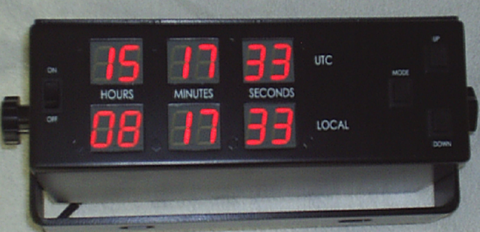 IRIG-B Display accepts an IRIG-B signal input and displays both UTC and Local time in Hours, Minutes and Seconds.
It provides Automatic Local time offset with an IEEE-1344 signal or allows for manual adjustment of the local time.
An internal battery will allow the unit to maintain the internal clock during power outages.
The unit will automatically failover to the internal clock upon a loss of the IRIG-B input signal.
Part Number: 
A90240001M
This unit allows the selection of two optional mounting configurations:
    1.  Standalone Mounting Bracket (-1)
    2.  19" Rackmount Kit (-2)